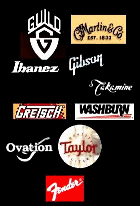 Links to sites I recommend...
Here are some sites I visit regularly, and recommend to my fellow guitarists and musicians...

Songwriting Tips from Popular Artists Big thanks to Mr. Reyes' class on Music & Art for kids!
Webstrings This is where I buy all my guitar strings. Great prices!
Guitar Fetish Excellent pickups & guitar parts!
Register 4 Less The best web domain registrant, period.
The Getaways Norway's hottest new rock band! My friend, Mattias Jahr is the lead guitarist. Click on "bilder og lyd" (pictures and sound) to hear some clips of their fine music!
Belly Jelly Music This links to Bill Jehle's website full of information about building Cigar Box Guitars. I love CBGs. Building them taught me a lot. I think all guitarists should build at least one...
Sunset Studio Excellent local resource for Tampa Bay area musicians! Recording, promotions, web design, etc.